Ringbio is happy to announce that we have successfully developed a rapid test kit for the detection of IgG/IgM of COVID-2019. This new kit is a 10min rapid test kit, which can be used in the aiding diagnosis of COVID-2019. It can be a great tool for people in panic or in the waiting list of RT-PCR testing. This COVID-19 antibody test kit is a combo test of COVID-19 IgM and IgG antibodies.
About this COVID-19 antibody test kit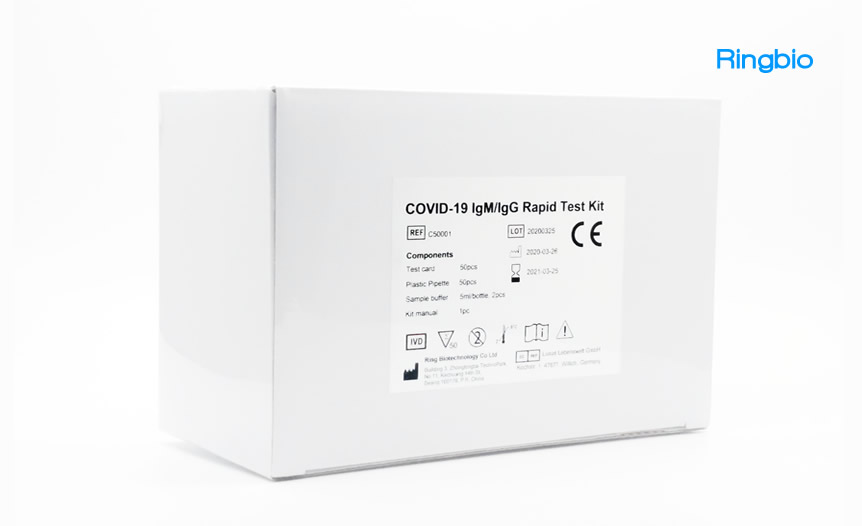 The COVID-19 antibody test kit is based on lateral flow immunoassay, in each box, there are 50 test cards, 2 bottles of sample buffer and 50 plastic pipettes. The kit is stored at 4-30 degree celsius and will be stable for 12 months minimum. According to the latest evaluation done by our customers, the kit accuracy is over 90%. 
Click here to check more information about this COVID-19 IgM/IgG antibody test kit.
This product is now registered in German DIMDI and Italian Ministry of Health.
About CE mark of this COVID-19 antibody test kit
This product is CE marked with registration in Germany and Italy. The manufacturer also issued a Declaration of Conformity and assigned a European representative for handling registration & regulation affairs.
About COVID-19 and novel coronavirus
On February 11, 2020, the International Committee on Taxonomy of Viruses, charged with naming new viruses, named the novel coronavirus, first identified in Wuhan, China, severe acute respiratory syndrome coronavirus 2, shortened to SARS-CoV-2.  The diease caused by SARS-CoV-2 is then named as novel coronavirus disease 2019, shorten as COVID-19.
As the name indicates, the virus is related to the SARS-associated coronavirus (SARS-CoV) that caused an outbreak of severe acute respiratory syndrome (SARS) in 2002-2003, however it is not the same virus.
COVID-19 is now spreading in China, Italy, Iran, Korea, Japan, United States and more than 20 countries worldwide. It is a severe infection with no specific cure and vaccines. Currently RT-PCR / CT scanning are the main techniques used to identify its infection. Lateral flow immunoassay is develoepd as an aiding tool for RT-PCR testing to eliminate the false-negative individuals.
Contact us by email to [email protected] for more information.