Note: please specify your country before inquiry
Basic information on COVID-19 IgM Rapid Test Kit
This novel coronavirus disease COVID-19 IgM Rapid Test Kit is based on lateral flow immunoassay to detect IgM antibody of SARS-COV-2. It can be used as an aiding tool for RT-PCR testing. Clinical diagnosis shall be done according to the doctor.
Component of the COVID-19 IgM Rapid Test Kit
COVID-19 IgM Rapid Test Card, 50pcs,
Sample buffer, 5ml, 2pcs
Disposable micropipette tips, 50pcs,
Kit instruction, 1 pc
Significance of tesing IgG/IgM in blood/serum/plasma
IgM is an antiody produced in the beginning of infection, which indicates an early stage of the disease
IgG is produced after a period of infection, which indicates the infection is ongoing or was infected.
Combination of IgG/IgM indicates the infection is ongoing
Clinical diagnosis shall be determined by RT-PCR/CT scanning.
How to use this COVID-19 IgM Rapid Test Kit
Take 10-20ul blood sample (serum, full blood or plasma), add into the sample well on the test card
Then add 2-3 drops of sample buffer into the well.
Wait for 10-15min, determine the result according to the kit instruction.
The picture below describes the use of this kit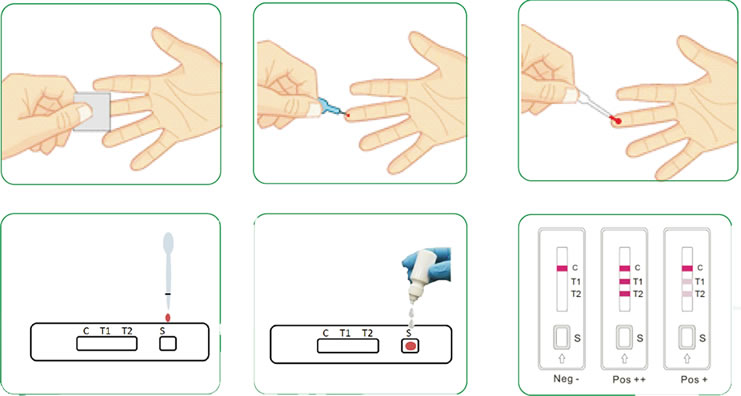 Precautions on the handling of sample and lab waste
This kit does not contain any contagious materials, it is safe to ship/use under normal situation.
All samples are contagious, please handle carefully according to local regulations, or following the guidelines of your local CDC or WHO.
Used test cards shall be handled carefully as biolab waste, which shall be treated carefully according to guidelines of CDC/WHO.
Limitations of this COVID-19 IgM Rapid Test Kit
This kit is used as aiding tool for the testing of COVID-19, which shall be used in combination with RT-PCR/CT scanning. The results shall be determined by professionals. It is not a home use test. Before licensed by CDC, this kit can only used as research tool, which can not be used in clinical diagnosis of COVID-19.

Background of novel coronavirus and COVID-19
Coronaviruses (CoV) are a large family of viruses that cause illness, ranging from the common cold to more severe diseases such as Middle East Respiratory Syndrome (MERS-CoV) and Severe Acute Respiratory Syndrome (SARS-CoV). A novel coronavirus (nCoV, also known as SARS-CoV-2) is a new strain that has not been previously identified in humans. The disease caused by this novel coronavirus is then named Coronavirus Disease 2019(COVID-19) by WHO. 
Standard recommendations to prevent infection spread include regular hand washing, covering mouth and nose when coughing and sneezing, thoroughly cooking meat and eggs. Avoid close contact with anyone showing symptoms of respiratory illness such as coughing and sneezing.
More information can be found on WHO website, CDC website.
References
Li, Z., Yi, Y., Luo, X., Xiong, N., Liu, Y., Li, S., Sun, R., Wang, Y., Hu, B., Chen, W. and Zhang, Y., Development and Clinical Application of A Rapid IgM‐IgG Combined Antibody Test for SARS‐CoV‐2 Infection Diagnosis. Journal of Medical Virology.