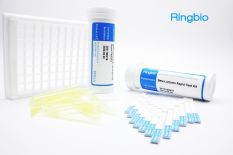 β-lactam antibiotics, tetracyclines and cefalexin are widely used natural or artificial antibiotics in animal or human clinical practice, side effects of which include severe allergy, etc.
Product No: 500003 ,
from
Sulfonamides are synthetic antimicrobial agents that contain the sulfonamide group, which are widely used in veterinary practice. Due to the potential hazard to human, strict MRLs have been set in EU, USA and other countries.
Product No: 500002 ,
from
Tetracyclines (TC) are broad-spectrum antibiotics whose general usefulness has been reduced with the onset of antibiotic resistance. Despite this, they remain the treatment of choice for some specific indications, especially in veterinary practice.
Product No: 500001 ,
from